Recording Sessions:
The University of South Carolina Wind Ensemble, under the direction of Dr. Scott Weiss, utilized Fall break (October 20 – 23, 2011) to record a program of Leonard Bernstein compositions for a CD to be released on Naxos classical music label. The ensemble of nearly 70 students performed on the Koger Center stage during two three-hour sessions each day.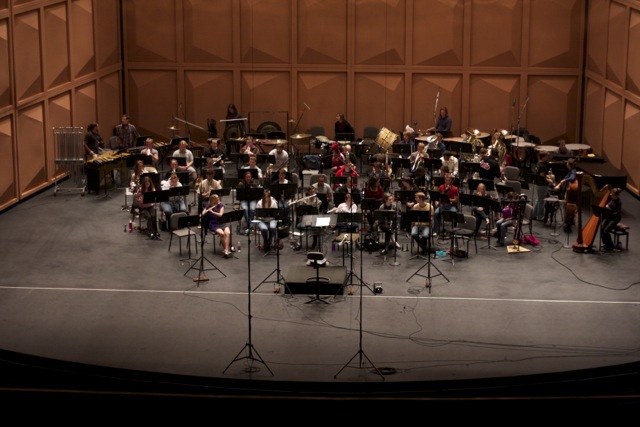 A temporary control room was setup in the Koger Center green room.  The ProTools HD system and Tascam DM-4800 digital console were moved from USC School of Music Studio C. The engineer (Jeff Francis) and Wind Ensemble graduate assistants monitoring via Genelec 8020s while the producer (Paul Popiel) listened on headphones. In addition to talkback, snoop, and private telephone audio communications, a video camera and monitor allowed those in the control room to watch the conductor onstage.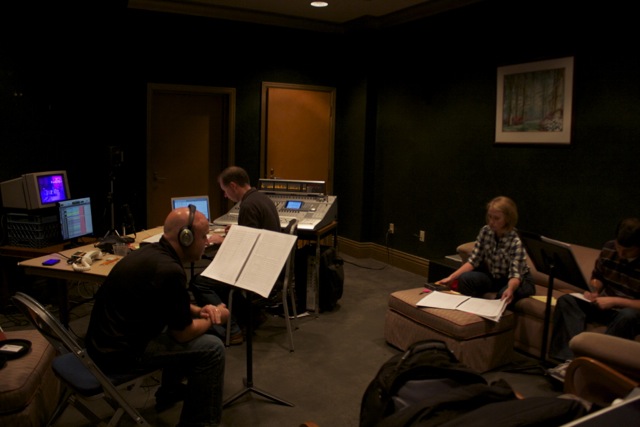 Though the overall sound was primarily captured by a stereo pair of main microphones, for the sessions a total of 26 microphones were used. These included the main pair, flanking and ambient mics and 20 spot mics on the various sections and individual instruments of the ensemble. A total of 487 takes were recorded – creating over 12,000 sound files totaling nearly 130GBs!
Post-production:
Scott Weiss, working from rough mixes of the takes and notes taken during the recording sessions, choose the takes to be used. Selections were marked directly on the score. After the initial round of edits, a handful of additional corrections were made and the mix was adjusted to bring out certain musical phrases and solos.
The CD will be released on the Naxos classical music label later this year.